If you own cats, you know just how messy their litter boxes can be. While cats are relatively clean, scooping litter daily can get tedious and sometimes a bit gross. Luckily, automatic litter boxes are a great alternative to this scenario!
Automatic litter boxes make it possible for you not to have to manually scoop litter every day, so your kitty's box stays fresher and cleaner than ever before. This lets you focus on the more fun aspects of owning a cat such as giving them a manicure or teaching them to walk on a leash.
I survived 15 years of having a cat with a regular litterbox, so spending a ton on an automated litterbox seemed excessive. Until I got it! Now I cannot imagine life without it. It's cleaner, not smelly (our Ragdoll is lazy and doesn't cover well), and works fine when we need to take trips so the cat sitter doesn't need to empty is daily.
Litter Robot is one of the best-known automatic litter boxes on the market. This large spaceship-looking robot is self-cleaning using its rotating inside and offers odor control through its carbon filters. It's also multi-cat friendly, as it is large enough to handle up to four cats, so you don't need multiple litter boxes!
If that isn't enough, the Litter Robot has wifi capabilities so you can get updates from the litter machine right on your phone. This can help you keep track of regular maintenance such as cleaning or needing more litter. You can also track your cats' potty habits, as it tracks when the box has been used.
While this machine is the most expensive on the list, it is definitely one of the most high-end automatic litter boxes you can find. Many owners say the cost is worth it to save them daily scooping and help them keep track of their cats' urinary health.
If you want a truly luxurious experience for your cat, you should consider the Cat Genie. Unlike other automatic litter boxes, the Cat Genie actually hooks up to a water supply in your home to drain liquid waste and wash its reusable non-absorbing Washable Granules. Solid waste is liquified and flushed as well before a hot air heater is used to dry the granules once your kitty is done. There are few litter boxes out there as fancy as this!
Plus, the Cat Genie offers AI versions that connect to an app on your phone so you can monitor your box and your cats' bathroom habits. It will also let you control cleaning cycles and give you suggestions to optimize the box's performance.
You'll have to get boxes of granules and solution cartridges a few times a year, but the price is comparable to the cost of litter annually. It also has a 2-year warranty if you have any issues with the machine!
Those looking for an automatic litter box without the bells and whistles should consider the Petsafe Scoop Free. This simple machine uses a metal rake to filter solids out of the box so you never have to scoop manually again. The machine uses trays of crystal litter that absorb urine, so you don't have to worry about it raking through hard urine clumps.
The Petsafe Scoop Free has two different versions: regular and smart. The smart version has Wifi capabilities so you can check on your cats' bathroom habits throughout the day using the Petsafe app.
This automatic litter box is much cheaper than the others since it is simpler to operate, so it's a good option for those on a budget needing an easier system.
If the Petsafe Scoop Free isn't your thing, take a look at Petsafe's other model, Simply Clean. Simply Clean has an expanded rotating litter bowl to give your cats plenty of space to do their business and stay clean. It has a conveyor belt that sifts the litter every 30 minutes to move waste into a covered bin. Once the bin is full, simply empty it and pop it back in.
Its motor is extremely quiet compared to other automated litter boxes, which makes it less likely to scare your kitties off. However, it is only for cats that weigh up to 15 pounds. If you have an extremely large cat, you may want to consider a different model. However, it's perfect for smaller cats and kittens.
---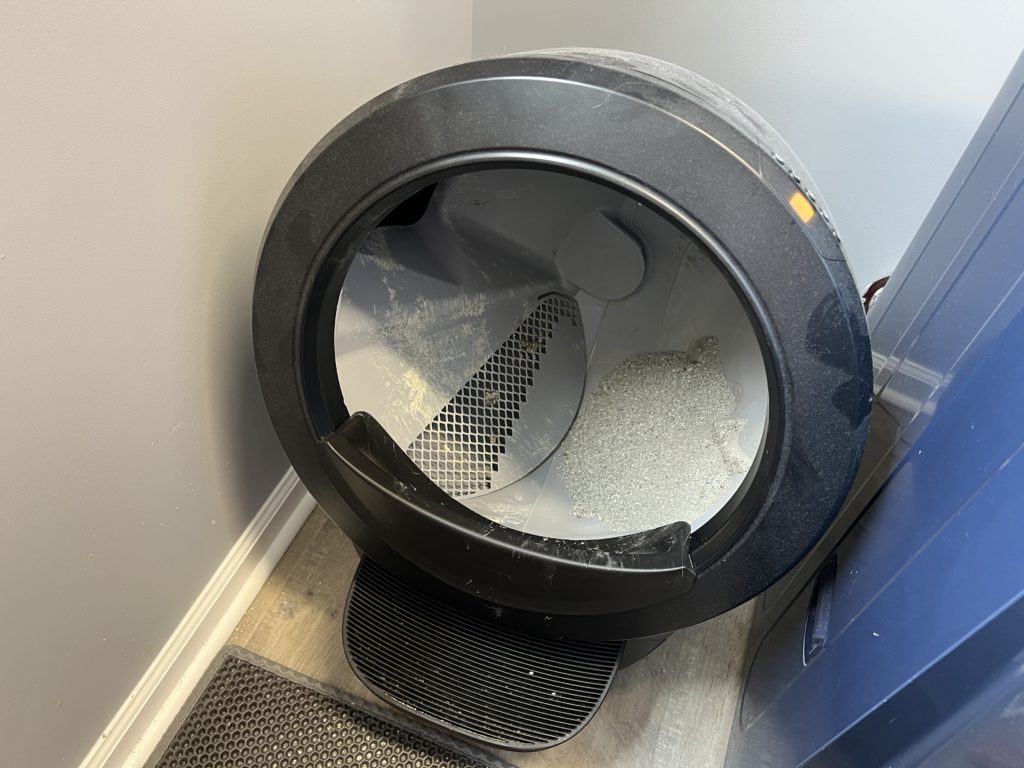 FAQ
How do most automatic litter boxes work?
Most automatic litter boxes work by sifting your cat's litter to remove waste and prevent buildup. Usually, the waste is emptied into a bin with the sifter so you just have to empty the bin occasionally. These kitty litter machines must be hooked up to an electrical source to work properly.
Some luxury automatic litter machines, like the Cat Genie, require additional hookups such as water and dissolving solutions. This machine dissolves the waste and empties it into your toilet, so it's definitely a bit different compared to most automated litter boxes.
What are the pros of having an automatic litter box?
Automatic litter boxes save you time and energy because they scoop your litter for you! With an automatic litter box, waste is filtered out automatically so you can keep your cats' litter box cleaner than ever.
What are the cons of having an automatic litter box?
Automatic litter boxes are often much more expensive than regular litter boxes. Some may also require specific litter or cause issues later on if they have technical glitches or lose power.
How much do automatic litter boxes normally cost?
Automatic litter boxes can range anywhere between $100 and $700 depending on the type you get. The more luxurious the box, the more expensive it will be.
What type of litter do I need to use with my automatic litter box?
Ultimately, it depends on the machine. Some can take all litter types, while others require crystal litter or clumping litter only. Research your machine to determine what type of litter it takes.
---
There are lots of different litter box options out there. Now, it's up to you to decide which one is best for you and your cats. Automatic litter boxes can save you time and energy from having to scoop litter by hand, leaving you with more time to bond with your precious kitty. No matter what you pick, we're sure your cat will be happy and healthy.