If you're looking to bring home a new furry friend, you may have considered a pet rat. Rats get a bad rep but are actually extremely sweet, intelligent, and clean as pets.
Before bringing home a pet rat or two, you'll have to prepare a cage for them. You should find the best possible cage for both you and them, so your rats are kept safe and cozy while you can still clean and organize the cage easily.
What Makes a Good Rat Cage
Before you choose the perfect rat cage for you and your furry friends, you should first figure out what factors make a good rat cage. Good rat cages are safe and sturdy so your rats will be unable to escape or accidentally hurt themselves.
They also tend to have multiple levels since rats love to run and explore, so having several cage floors lets them climb and get plenty of space in their cage.
Look for cages with sturdy bars preferably made of metal. Plastic components are okay in a rat cage (such as along the bottom of the platforms), but plastic bars could be chewed through by a determined rat. The stronger your cage is, the safer it will be.
You should also consider cages that have wheels under their legs to help you move it during cleaning times. Rat cages are often pretty large, so any aid with transport is a major plus.
Finally, make sure the cage has more than one door. More doors give you better access to clean every part of their cage, so you don't have to worry about not being able to reach any corners for cleaning. This can also help you access rats as needed or hang up toys and hammocks all throughout the cage.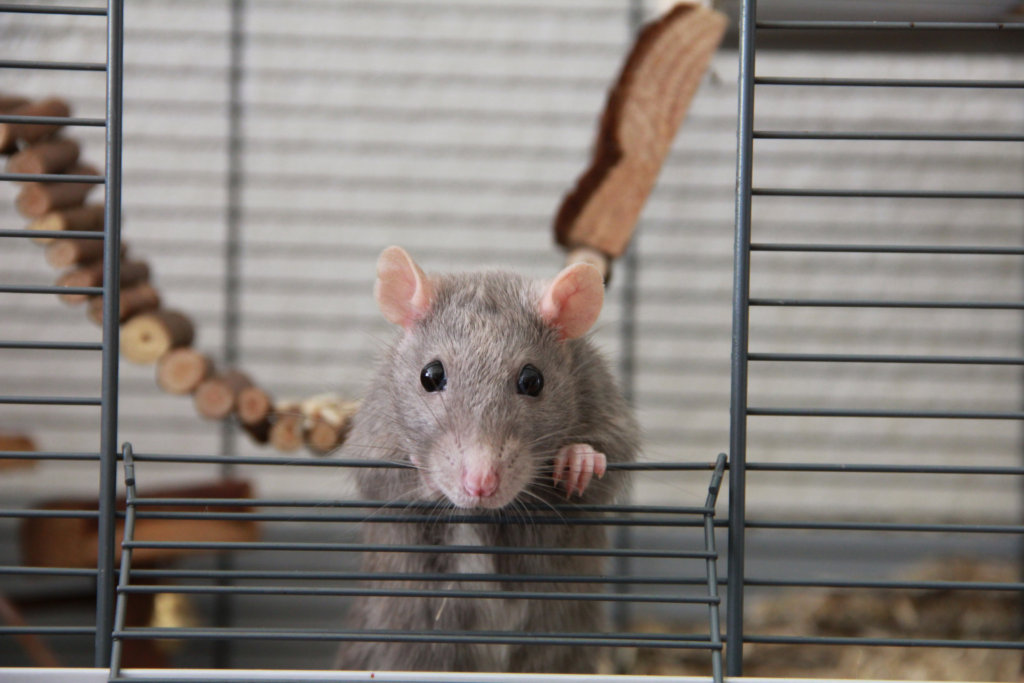 Rat Cages to Avoid
Now that you know what to look for in a rat cage, you should also note what to avoid in your rat cage. Make sure you avoid tank-like enclosures as rats need proper airflow to avoid illness. You should also make sure that the cage is suitable for rats and not guinea pigs or rabbits.
Single-story cages for these other types of rodents may work for them, but won't be enough for high-energy rats that love to climb. You need a cage that is bigger, taller, and provides more climbing activities for your rats than a typical rabbit cage offers.
If you want a mansion for your rats, look no further than MidWest Homes for Pets' Deluxe Critter Nation cage. This cage has two stories and two additional platforms between floors to give your rats plenty of space to run and explore.
These platforms are layered so your rats won't fall far if they accidentally slip off one of the shelves, making it a safe option for clumsy rats.
The dimensions of the cage are 63 inches high, 24 inches wide, and 36 inches long. MidWest Homes' Deluxe Critter Nation cage has two easy-clean pans, three plastic ramps, and stands on four lockable wheels for easy transport. It also has giant double doors on each floor for easy access to all areas of the cage.
It's hard to go wrong with this cage, as it's perfect for any rat family. You can plan to comfortably house up to six rats in this cage, so it's great for those with several rats needing a home.
---
Those looking for a rat cage on a budget will be pleased with the Kaytee My First Home Multi-Level Habitat. This cage is one of the most affordable on the list but still provides plenty of space for small rats.
It has a deep plastic base that is easy to clean and has three platforms and three ramps for your rats to run and climb on.
Though many parts of this cage are plastic, Kaytee advertises their wire as being chew-proof so you don't have to worry about your rats escaping. It also contains an attached food dish to save you a few extra dollars as you buy your supplies.
Since this cage is on the smaller side, it's recommended that you only put two rats in there comfortably. It's a great option for those with a smaller rat family or those with less space in their home for their pet rats since it can easily be put on a table.
---
Prevue Pet Products Rat Cage is considered one of the best on the market for its sturdy materials. This cage, while not as large as others, is long-lasting thanks to its metal bars, platforms, and ramps.
This means you don't have to worry about damage from chewing or scratching over the years. It also has a durable lock and ⅜-inch wire spacing, making it much safer against rat escapes than other cages out there.
Prevue's rat cage is 31 inches long, 20.5 inches wide, and 40 inches high to give your rats plenty of space to run, climb, and explore. It also has an easy-to-clean tray on the bottom that can be removed without even having to open the cage.
Plus, it stands on four wheels for easy transport while you clean. However, you should keep in mind that the bottom of this cage is fully wired which can be uncomfortable for your rats' feet. Some purchasers recommend putting a tray inside the cage for a smooth bottom that is still easy to clean.
---
There are a lot of different options for the best rat cages out there. Regardless of the brand or type you pick, make sure that it's suitable for your rats by being safe and offering them space to explore.
As long as your rats can be contained safely and with adequate activity space, the other details are for your convenience. Once you find the best cage for your rats, enjoy watching them explore their new home!