If you have a cat, you definitely need a cat carrier. You can't always expect to use a leash for your cat. Whether you have to take your cat to the veterinarian or across the country on a vacation, a cat carrier is essential to good pet ownership. Before making that purchase, take a look at this list to learn more about the best cat carriers currently on the market.
Why Do You Need a Cat Carrier?
You may think you'll never have to take your cat away from home, but any cat owner will tell you that simply isn't true. At a minimum, you'll have to take your cat to the veterinarian at least once per year for an annual checkup and regular vaccines.
This doesn't include any other surprise vet trips, such as when your cat accidentally scratches its eye or eats something it shouldn't. Having a cat carrier ahead of time ensures you won't be scrambling last minute every time you need to take your sick cat to the vet or travel by plane.
You may also need a carrier to take your cat with you on vacations or to a new home if you ever relocate. This ensures your cat remains safe while riding in your car or on an airplane.
Finally, having a cat carrier is great in case you need to isolate your cat for an extended period of time. For example, if you bring a new cat home at first and you need them to warm up to each other. Using a cat carrier to introduce pets ensures they remain safe while getting used to one another.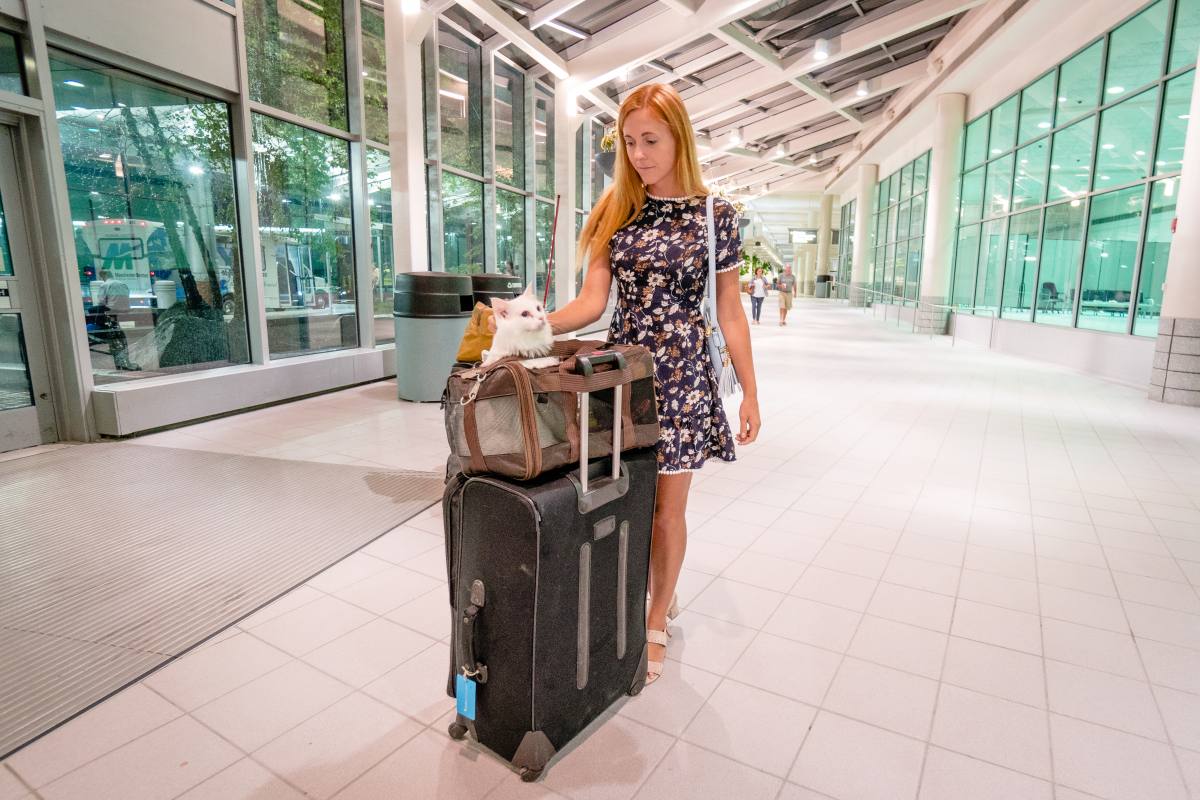 Types of Cat Carriers
There are a few different types of cat carriers you can choose from. These types include:
Rolling carriers
Backpack carriers
Double cat carriers
Transparent carriers
Regular carriers
Each of these carrier types has its own pros and cons. You should decide which type you prefer before choosing a cat carrier to purchase.
If you're someone who travels a lot, a rolling carrier may be easier on your body, but may not be necessary if you only plan to use your carrier once or twice per year. For those who enjoy flying, backpack carriers may be a good choice as you may be able to take it as a carry-on item. Of course, if you have more than one cat, double carriers or extra-large carriers are your best option.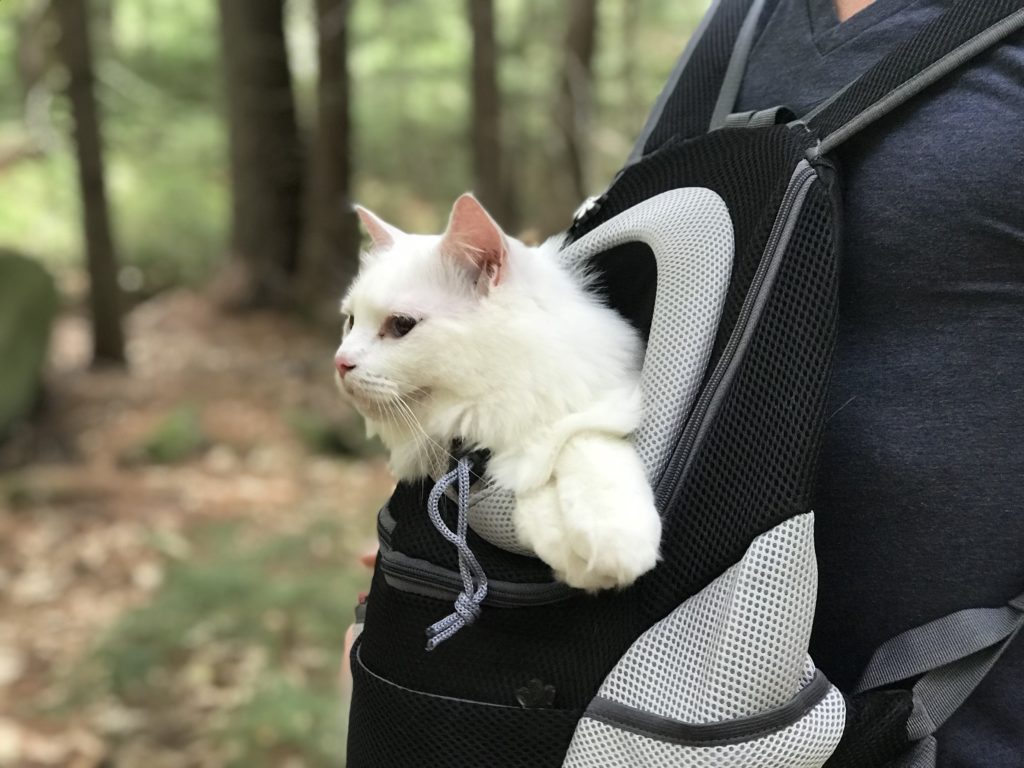 Best Cat Carriers for Pet Travel
Those looking for a combination of convenient features will enjoy the Pet Gear I-GO2 Roller Backpack.
This cat carrier has wheels and a telescoping handle for when you want to roll your cat, but also has straps to convert into a backpack.
Plus, it can convert into a cat car seat by strapping it into your car seat. What's not to love?
This roller backpack is soft-sided and has a mesh window for proper airflow. It also has two storage pouches on the sides so you can bring your cat's favorite treats and toys with you.
The carrier is 16 inches long, 12 inches wide, and 15 inches high, so it can fit most average-sized cats comfortably. If your kitty is on the larger side, you can also expand the sides of the carrier to add an extra three inches in length.
Check other reviews and current prices
Pet Gear I-GO2 Roller Backpack
---
For those looking for a comfortable backpack to carry their cat, Pecute has a breathable, comfortable option for you. This backpack is made of firm mesh so you can see your cat at all times while they relax comfortably. Since it is made of mesh, your cat will have ample airflow while exploring the world.
When your cat isn't in the backpack, it easily folds into a smaller shape for storing. It also comes with a comfortable waist pad, so your carrier remains secure on your back while you walk with your cat.
The Pecute Expandable Cat Backpack Carrier is typically 14 inches in length, 10 inches in width, and 15 inches in height, but can expand to 21 inches in width once your kitty is inside.
Since the backpack is made of soft mesh, it has a maximum weight recommendation of 15 pounds.
Check other reviews and current prices
Expandable Cat Backpack Carrier
---
Have two cats? No worries. One For Pets Portable 2-in-1 Double Pet Kennel can work for you.
This portable cat kennel is made of a durable fabric designed to keep your cats comfortable and safe. It also has a car seat belt adapter to keep your cats safe while you drive to your destination.
This multi-cat carrier has a strong handle on the top so you can carry it securely. You can also remove the divider to provide one larger space for your cat or cats.
This makes it a great choice for those with extra-large cats that don't fit in your average cat carrier. At 20 inches wide, 20 inches tall, and 39 inches wide, you can't go wrong.
Check other reviews and current prices
One For Pets Portable 2-in-1 Double Pet Kennel
---
Like to see your cat and let them see you too? Henkelion Transparent Cat Backpack may be your perfect match.
This cat carrier uses a combination of mesh and plastic windows to let your cat see around them while you carry them around – on your back or as a bag.
It's also soft-sided and collapsible for easy storage. Plus, it comes in four sizes so you can pick the best option for your kitty!
Check other reviews and current prices
Henkelion Transparent Cat Carrier
---
Looking to fly with your cat? Look no further than the Sherpa Original Deluxe Airline Approved Pet Carrier. It's my favorite.
This cat carrier is one of the simplest on this list, but that doesn't make it any less luxurious. This cat carrier is made with soft mesh on a wire frame to help keep its shape.
This pet carrier also has padded straps and handles so you can carry your cat in comfort.
Designed specifically for airlines, this cat carrier fits carry-on size restrictions and remains flexible so you can store your kitty wherever necessary.
Plus, added storage pouches let you carry treats and toys with ease.
Check other reviews and current prices
Sherpa Original Deluxe Airline Approved Cat Carrier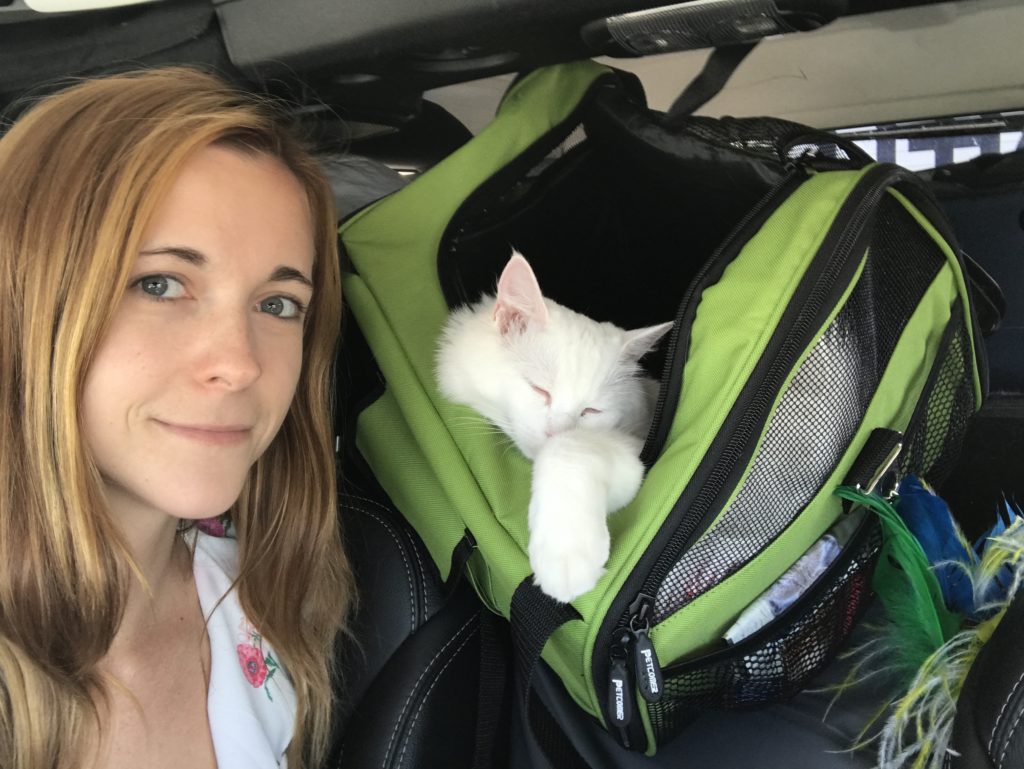 ---
Before you have to take your cat anywhere, make sure you get a high-quality cat carrier to keep them safe and secure while you travel. By using any of the cat carriers on this list, your cat will be traveling in style and comfort in no time.